23.01.2023
change 23.01.2023
Polish researchers test innovative non-jamming seatbelt buckle
Dr. Hubert Grzybowski. Credit: Paweł Jankowski/Bialystok University of Technology
A seatbelt buckle that allows users to free themselves from jammed seatbelts with one hand has been tested at the Białystok University of Technology. The buckle remained intact even when the seatbelt was damaged in strength tests, the university reports.
The invention was developed by HEMAWI, a startup from the concluding 7th incubation cycle at Hub of Talents 2, a Bialystok Science and Technology Park project that supports people with innovative business ideas.
The buckle can be used in any industry that uses seatbelts, including automotive industry and parachuting. The solution is intended to replace the currently used buckles that have remained basically unchanged for about 50 years. Currently, the only available emergency release solution are belt-cutting knives.
According to the creators of the solution, the buckle cannot unfasten accidentally, because it requires the use of some force. The numerical analysis performed by HEMAWI in cooperation with the Bialystok University of Technology as part of the Hub of Talents 2 project was important in the project.
The startup provided scientists with illustrative models. Dr. Paweł Dzienis from the Department of Mechanics and Applied Computer Science of the Faculty of Mechanical Engineering, Bialystok University of Technology improved them and prepared the necessary technical documentation. It became the basis for a simplified model of the invention, taking into account only the load-bearing components.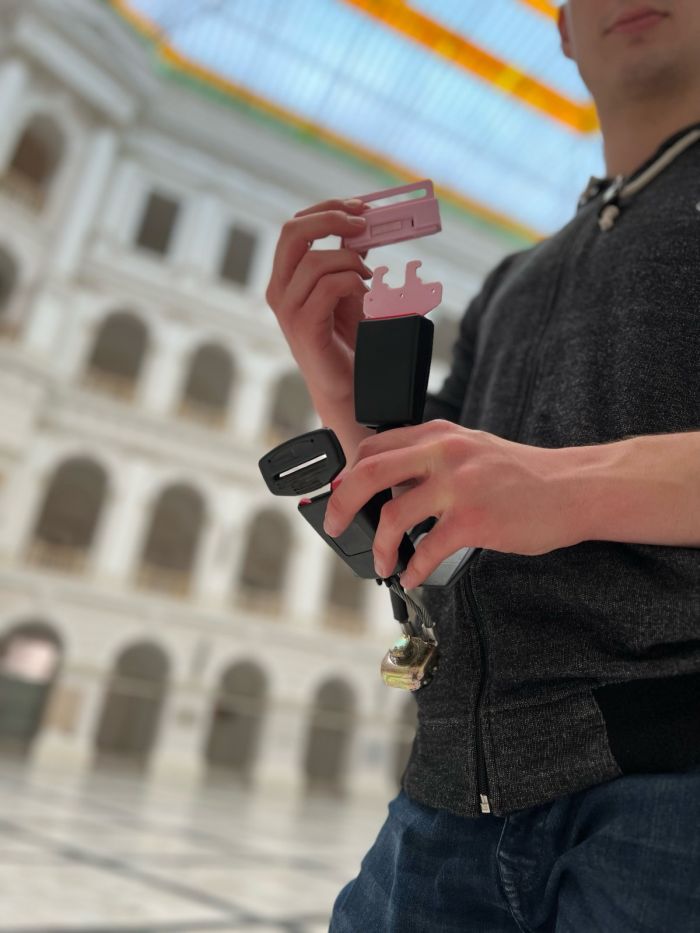 Dr. Hubert Grzybowski from the Department of Mechanics and Applied Computer Science said: "Before testing on the strength testing machine, I performed a strength analysis. It allowed us to illustrate the points where the invention could be exposed to destruction. I prepared an appropriate grid, simplifying the model, so that we could look at the results and compare them to the behaviour of the prototype in the testing machine."
The test was conducted by doctoral candidate Wojciech Grodzki. It continues until the point where the seatbelt was destroyed and the innovative buckle remained intact. During the tests, the innovative buckle carried a load of approx. 7,000 N, i.e. over 700 kg. The deformation that occurred during laboratory strength tests was consistent with the numerical analysis results.
The startup has a prototype made on a 3D printer and a metal prototype based on improved 3D models developed during incubation. An international patent application for the invention has been submitted.
Mateusz Wiśniewski from HEMAWI said: "We have registered three of our solutions with the European Patent Office. The applications are still being processed. In Q2 2023, we will have to choose the countries where we want to have protection. Unfortunately, this is associated with costs of PLN 350-450 thousand for all applications, which is why we are trying to attract the first investor."
He added that it is necessary to certify the entire belt systems for each car model. In the first quarter of this year, the company's shares will be issued on the equity crowdfunding platform BEESFUND.
PAP - Science in Poland
kol/ agt/ kap/
tr. RL