02.04.2018
change 02.04.2018
Study: Compared to other European countries, Polish humanists rarely publish in English
Photo: Fotolia
Only 17 percent of all publications in social sciences and humanities in Poland are written in English. This is the lowest result compared to seven other European countries, according to the study published in "Scientometrics".
An international team of scientists led by Dr. Emanuel Kulczycki from Adam Mickiewicz University in Poznań analysed where and in which language scientists from eight European countries specialising in social sciences and humanities publish their articles, monographs and books. Researchers looked at the Czech Republic, Denmark, Finland, Norway, Poland, Slovakia, Slovenia and Flanders (one of the three autonomous regions of Belgium, which has a separate science and publication counting system).
Researchers analysed over a quarter of a million publications from the years 2011-2014.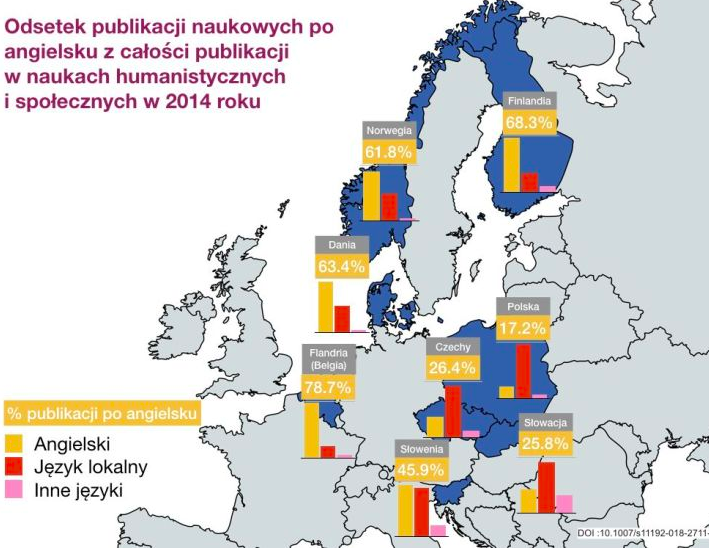 "Our research challenges the previous claim that publication patterns differ between disciplines, but not between countries. We show that the differences between Western and Scandinavian countries and Central and Eastern European countries are much larger than previously thought" - Dr. Kulczycki told PAP.
According to the lead author of the study, until now it was believed that in Europe most publications in social sciences and humanities are published in national languages. However, there was no scientific research data on this subject.
It turned out that in 2014 in Denmark, Flanders, Finland and Norway over 60 percent of all publications in social sciences and humanities were published in English; the situation was much worse in the countries of Central and Eastern Europe - in Slovenia it was 45 percent, in the Czech Republic - over 25 percent, and in Poland, which closed this list, it was only 17 percent. Similar numbers were obtained for earlier years - starting from 2011.
"These results surprised us. The differences between countries are huge. In Poland we publish mainly in Polish, because it is simply easier. It is our mother tongue, but another reason is that in the best journals - published mostly in English - we have to go through a peer review by the best scientists in the world" - commented Kulczycki in an interview with PAP.
The scientist regrets that this is the case in Poland. "Humanities have been international with one main language since the beginning of history - Latin at first, then French and now English" - he says. In his opinion, humanities research must be first and foremost "good". "However, since the beginning of knowlegde, it is based on communication - also with the environment of the best experts. Humanities usually address regional issues, but should be communicated globally" - he says.
Kulczycki believes that the provisions in the higher education and science bill (the so-called Law 2.0 or the Constitution for Science) will improve the situation and motivate Polish scientists to publish in English.
"The new principles of evaluation of publications will motivate to publish in the best publication channels, and in many humanistic disciplines those function mainly in English. There will be incentives to publish in English and in prestigious places, and not as it has been so far - wherever, as long as it is in English" - he said.
The statistics developed for the needs of the study also inspire hope. They show that in all the analysed countries, including Poland, the number of scientific publications in English has been increasing gradually in recent years. This is true regardless of the field of science.
Kulczycki noted that the population of the majority of countries analysed during the study did not exceed 7 million, which could have an impact on linguistic publication patterns. However, this is not the case here, because the differences in the scale of publishing in English were also significant between those countries (68.3% in Finland, 25.8% in Slovakia).
"The size of our country matters - we have many recipients of articles in the form of other scientists - but it does not explain everything. It is also important that in science there is still an active generation, for which an obligatory second language in school was Russian, not English. Scientific policy and the evaluation system is extremely important: under the current rules, it is enough to publish in Polish only in order to advance" - he concludes.
The study was co-financed by the National Program for the Development of Humanities. The full version of the publication is available free of charge here.
PAP - Science in Poland
Author: Szymon Zdziebłowski
szz/ agt/ kap/
tr. RL