05.01.2023
change 05.01.2023
Blue tits respond flexibly to changing climate
Credit: Adobe Stock
Blue tits flexibly respond to the changing climate. Collared flycatchers cannot do this, which may lead to the extinction of their population, shows research by an international team including Polish scientists. Their results have been published in Nature Communications.
Researchers from the Institute of Environmental Sciences of the Jagiellonian University, in collaboration with Swedish scientists from the University of Uppsala, have been conducting research on blue tits and collared flycatchers in Gotland (Sweden) for almost 30 years. The birds living there have been studied for a total of over 50 years. Such a long period and the fact that research has never been interrupted makes it the second most valuable wild bird research centre in the world, after Wydham Forest near Oxford (a 20 year longer research period).
In the age of climate change it is especially important that scientists have access to long-term data from wild populations, which confirm whether the observed phenomena are isolated events or established changes. By comparing historical data, scientists were able to determine that blue tits flexibly respond to changing climate, while collared flycatchers do not, which may lead to the extinction of their population in Gotland.
Phenotypic plasticity, adaptation of organisms to changing conditions, is an inseparable element of evolution. But with climate change occurring at a very rapid pace, it is difficult to predict which organisms will adapt and which will go extinct - and what consequences it will have on the ecosystem.
"Since 1980, the average spring air temperature in Gotland has increased by 2 degrees Celsius. This is a drastic change, much larger than on a global scale. It turned out somewhat counterintuitively that the impact of climate change on the population of sedentary birds (blue tits), which experience very predictable climatic conditions all year round, is the smallest," says Dr. Szymon Drobniak, an evolutionary biologist who has been spending every spring season in Gotland for 16 years. Together with Dr. Aneta Arct and Professor Mariusz Cichoń, he heads the research team on the Swedish island. He is also one of the authors of the publication in Nature Communications, which presents data on tit populations from all over Europe.
Migratory birds cohabiting with tits in Gotland - collared flycatchers - have been much more affected by the atmospheric temperature change. Their population has halved over the last 50 years. During the same period, the tit population has been very stable. Its start date of breeding remains practically unchanged and its size has not decreased. Szymon Drobniak admits that the research results are surprising for scientists.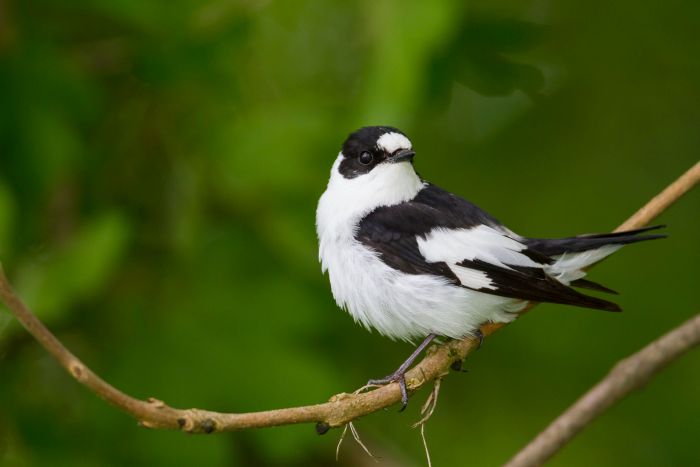 "We expected both species of birds living together in Gotland to react to climate change more or less in the same way: that the greater the climate change, the stronger the reaction should be in the case of both species," says Drobniak.
Collared flycatcher is a migratory species that has to cover a huge distance every year from sub-Saharan Africa to northern Europe.
"When a flycatcher takes off in early spring, it obviously does not know what it will find where it is flying. It is not able to change its decisions so easily and most often relies on what it found in the previous year. If it has experienced a change, it will remember that and might change the migration time to an earlier date. As a result, the incubation period has shifted by more than a week over the course of 40 years," says Drobniak. 
He adds: "Earlier hatching time caused by climate change triggers a cascade of side effects. We have already observed that when the breeding season of flycatchers coincides with the breeding season of tits, flycatchers more intensively compete for nesting places with tits, which often ends with the former getting killed by more aggressive tits. The availability of food also changes, and thus - the chances of offspring leaving the nest decrease."
In another research project, Drobniak and Dr. Aneta Arct have determined that flycatchers born in warmer weather conditions grow faster, which may increase the oxidative stress they experience and lead to tissue damage. The survival rate of such birds may be lower.
"It is possible that in 20 years there will be no flycatchers in Gotland. The results of our research are among the first to show such a strong relationship between the increase in atmospheric temperature and the local extinction of an entire species," says Drobniak.
There is a fundamental difference between the natural extinction of species, which is a natural part of the evolutionary process, and extinction artificially driven by man-caused climate change.
"The pace of climate change caused by man is so fast that nature cannot keep up with the development of defence mechanisms. A new equilibrium is not created where one species replaces another," says Drobniak, adding: "Tits - as the more resistant species - will probably gradually take the place of flycatchers if those become extinct (they will have more places to nest). 
"But ecologically, tits perform completely different functions. They have a completely different food base. Flycatchers that eating flying insects, eat a lot of pests, for example mosquitoes."
Two years ago, Polish scientists, together with Dutch colleagues, started the 'common garden' experiment. This is the only way to check whether the change observed in birds can be called phenotypic plasticity or rather a permanent genetic change.
In the city of Groningen in the Netherlands, they collected the eggs of great tits from populations from different latitudes. It turned out that when the birds from Gotland, which would normally breed almost a month later than the birds from the Netherlands or England, were brought to the same habitat in Groningen, they reproduced according to the 'calendar' of Dutch tits. The time difference disappeared.
"We thought that genetic adaptation would prevail and they would breed at different intervals (just like their natural population). Our results point to phenotypic plasticity, not genetic adaptation to local environmental conditions. But to be sure that our line of thinking is correct, we want to continue the 'common garden' experiment and check whether, after reversing the process, the birds will change their behaviour again," says Drobniak.
Now scientists want to compare the gene variants of modern tits and flycatchers and their ancestors (thanks to long-term research, the Gotland population gives access to such samples collected several decades ago).
"We want to see how they differ, if there are specific places in the genome that have become fixed or changed," says Drobniak.
PAP - Science in Poland, Urszula Kaczorowska
uka/ ekr/ kap/
tr. RL