02.10.2023
change 02.10.2023
Plastic works of art deteriorate quickly, warn scientists
Łódź, 15.03.2013. Zbigniew Libera's exhibition 'Flat reality' at the Atlas Sztuki gallery in Łódź. (gm/soa) PAP/Grzegorz Michałowski
Plastics take many years to completely disappear from the environment, but they are among the most rapidly deteriorating materials in cultural heritage objects, says scientists dealing with the degradation and protection of works of art.
Do plastics degrade quickly or slowly? 'It is a matter of perspective. There is no doubt, however, that degradation is inherent in the nature of plastics,' say Dr. Sonia Bujok and Professor Łukasz Bratasz from the Cultural Heritage Research group of the Jerzy Haber Institute of Catalysis and Surface Chemistry PAS.
'The development of synthetic polymers is one of the greatest technological and industrial achievements of the 20th century,' says Dr. Bujok. 'Thanks to the huge variety of forms, colours and textures, ease of shaping, combining with other materials and modifying, plastics have become a hit in painting, sculpture and architecture studios, enriching artists' possibilities of expression, communication and commenting on reality'. 
Another thing is that in the 20th century, synthetic polymers were a symbol of progress and modernity, which is why artists who tried to break away from traditional art were eager to use them.
For example, many Marcel Duchamp's objects are made of cellulose acetate. Nicki de Saint Phalle and Maurizio Cattelan made their sculptures from polyurethane resin. The mannequins for the scenography of Tadeusz Kantor's 'The Dead Class' and objects by Joseph Beuys are made of softened poly(vinyl chloride), and parts of Władysław Hasior's banners contain probably all possible types of plastics. In turn, 'Concentration Camp' by Zbigniew Libera (from the 1990s) was created with LEGO bricks made of ABS plastic. 'Plastic' also dominates artistic and functional design and is used in contemporary art.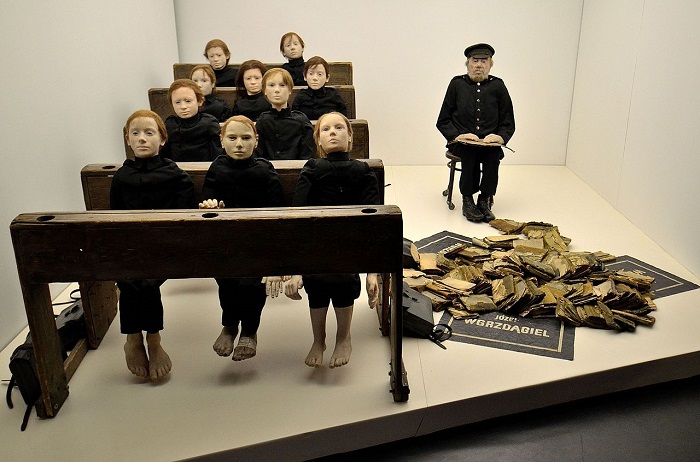 'Plastics are materials that have been known for less than 100 years, which is why the field of science devoted to them is relatively young. The first technologies for large-scale production of the most common polymer materials were developed about 80 years ago, and that was when they also reached art studios,' says Dr. Bujok She adds that although the technology of producing plastics was based on scientific research, the solutions at that time were 'imperfect' from the perspective of today's knowledge.
Just a few decades after plastics first appeared in artists' studios, conservators faced a new problem: it turned out that industrially produced synthetic polymers had limited durability and were subject to a rapid ageing process. There is therefore a threat of irreversible loss of part of the material cultural heritage of the 20th and 21st centuries.
In the 1980s, museums began to take steps to protect plastic objects. It was then that the noticeable effects of degradation began to appear. 'It turned out that after a relatively long latent period, during which changes in the performance parameters of the materials were almost imperceptible, degradation progressed rapidly, leading to the complete mechanical destruction of these materials,' says Professor Łukasz Bratasz.
The problem of celluloid degradation was first noticed by museums and archives that stored film tapes. 'Before 1980, the issue of film tape degradation was virtually unknown, and twenty years later it became the main problem of archives around the world,' says Dr. Bujok.

In the 1990s, it became clear that rapid degradation applied to all types of plastics. Professor Bratasz says: 'Together with a group of scientists, we examined drawings for the film 'Snow White' made on celluloid animation film. We wanted to solve the problems of storing such objects, for example in the Walt Disney library that stores 65 million films. These celluloid illustrations already show signs of damage - deformations and detachment of the painted layer,'
Dr. Bujok adds: 'The amount of polymer objects in museum collections continues to increase, and the issue of their proper storage, protection and conservation has become an urgent, still unsolved problem and challenge, especially for museums that collect modern and contemporary art.'
The gravity of the problem is counterintuitive to most people. This is because there is a widespread image of plastic waste remaining in the natural environment for hundreds of years. However, this does not mean that over the decades plastics do not undergo any changes.
'The degradation of plastics is a complex process, which in the context of works of art should be treated as successive stages - starting from deformation and discoloration of objects, through cracks or efflorescence on the surface. These processes take place over decades. However, chemical degradation - understood as the decomposition of materials into simple organic compounds - is a much slower process,' Dr. Bujok.
Professor Bratasz continues: 'If I were to advise institutions or private collectors on the purchase of works of art made of flexible polymers, rubbers, polyurethane foam, celluloid, I would certainly take into account that such objects deteriorate quickly. Their useful life is much shorter than that of objects made using traditional techniques.'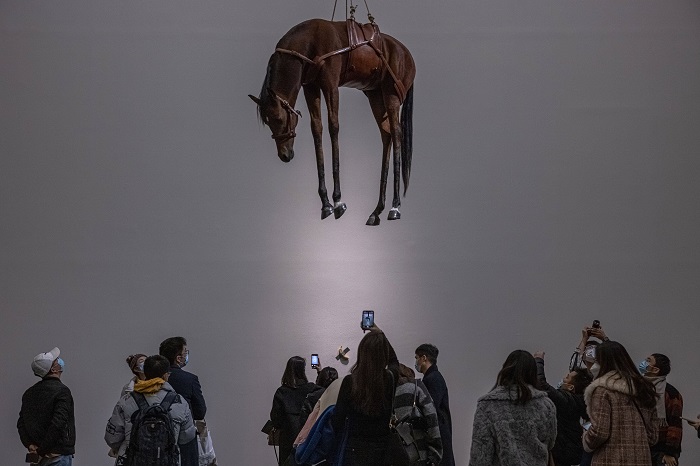 When it comes to protecting collections made of synthetic polymers, some of the most problematic objects are the ones made of softened plastics, which over time become covered with a layer of a softening substance, a plasticizer. Dr. Bujok explains that at the same time, these objects become more stiff and brittle. She says: 'In the context of the conservation of softened plastics, attention is increasingly being paid to the toxicity of plasticizers used in the past.'
'In general, we know how to protect objects made of plastic. To slow down their degradation, they should be stored in cool conditions, as is done in film archives. The problem is that this is very expensive, also in terms of the impact on the natural environment. Therefore, the aim of our research is to develop solutions that will combine the protection of works of art made of synthetic polymers with care for the natural environment,' say scientists from the Institute of Catalysis and Surface Chemistry PAS.
As part of the www.herie.pl platform developed by a Polish team, people involved in the protection of collections in museums can determine the rate of degradation of works of art made of plastics depending on their storage conditions. (PAP)
PAP - Science in Poland, Ludwika Tomala
lt/ bar/ kap/
tr. RL