12.05.2020
change 12.05.2020
Ditch the Ditches, says Wetland Professor in Warning over Drought and Peat Fires
Credit: Mariusz Lamentowicz
When we are threatened with drought and peat fires, we should block unnecessary drainage ditches instead of clearing them, believes wetland researcher Professor Mariusz Lamentowicz. In his opinion, under current conditions, maintaining numerous ditches is harmful to nature and man.
The head of the Climate Change Ecology Lab at the Adam Mickiewicz University in Poznań says that wetlands, including peat bogs, are among the ecosystems that are more vulnerable to water shortages. Although peat bogs only occupy 3 percent of the Earth's surface, next to the oceans they are the most important carbon reservoirs in nature. "The presence of species that occur there is 100 percent dependent on water. Meanwhile, most wetlands in Poland are drained and some cease to exist," he says.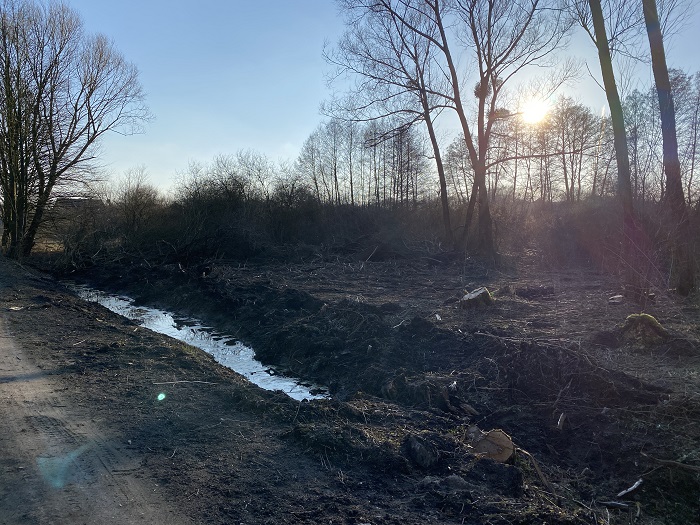 Drainage ditch. Credit: Mariusz Lamentowicz
UNNECESSARY DITCHES
"For example, in Polesie it is customary that each - even only moist - meadow must have its own drainage ditch. In fact, most of the local wetlands are cut with ditches. Because of this, huge areas of these ecosystems are terribly dry," he added. 
In theory, drainage ditches can drain excess water from the soil, but they can also be used for irrigation if properly constructed. In practice, however, in Poland many ditches only perform the former function. 'In peat bogs, ditches basically only lead to drainage', says Lamentowicz.
DRY BIEBRZA VALLEY
Giving, as example, a bog dehydrated by human activity, he says that in the past, forest was removed from those areas and water was drained to make them usable for grazing animals. This made the area more susceptible to fire.
The fire that broke out in the Biebrza Valley in April covered over 6,000 hectares, and the firefighting operations lasted a week.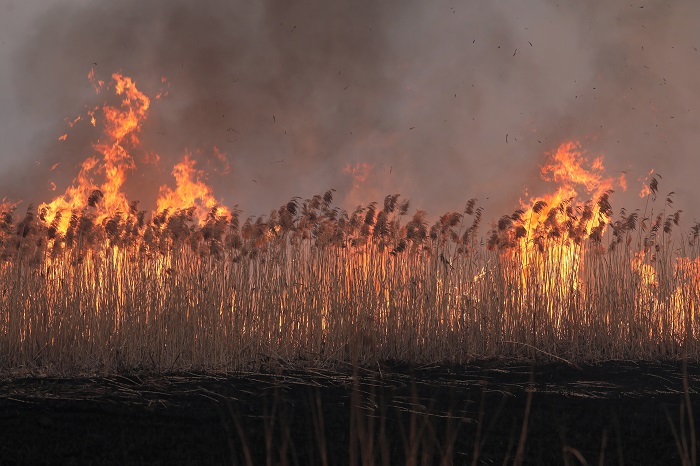 Wroceń, 22.04.2020. The fire in the Biebrza National Park, April 22, near the village Wroceń. (aldg) PAP/Artur Reszko
According to Lamentowicz: "Fires in the Biebrza Valley are a signal that we should think about the future of wetlands."
PEAT. BETTER NOT LET IT BURN
Peat is made mostly of plant debris. When it dries, it becomes very flammable. It used to be used as fuel for a reason.
When a forest burns, carbon accumulated by plants over decades or hundreds of years goes into the air. When peat bogs burn, several thousand years of the 'work' of plants that created this ecosystem can go up in smoke. How much bog will burn also depends on the water level because peat bogs burn deep.
If the ground water level is low and dry peat begins to smoulder, it is very difficult to extinguish it. It can burn for months, until the rain comes or the fire reaches the ground water level or mineral substrate.
Recalling recent bog fires in Siberia, the Netherlands, Scotland and Indonesia, Lamentowicz said: "In the years 2009-2018, over 500,000 square km of peat bogs burned down worldwide. That is 7.8% of their total area. Such fires are a global problem.
"It is time to think about what to do to prevent the peat bogs from burning in Poland as well."
UNPREPARED
Peat fires occurred for the first time on such a large scale in the Biebrza Valley but because the fire services were unable to cope with them the Professor says it is important to adapt the fire-fighting system and infrastructure to the possibility of extinguishing peat bog fires.
"By ensuring high water levels in bogs, we not only protect ourselves, but also the climate. Dry peatlands have the potential of global warming, and moist peat bogs bind carbon dioxide from the air and reduce global warming', the scientist says.
"We should eliminate drainage ditches wherever possible; fill them, build valves on them. As a result, ecosystems will be more resistant to drought and fires."
OUTDATED PLANS
He adds that plans for maintaining ditches (removing organic matter from them) are an obstacle. These plans are very inflexible and cannot keep up with the changes that global warming is causing. "Our planning for the future is outdated and the situation is becoming more and more dramatic," he says.
Consequently, to protect ourselves and peat bogs, we should consider eliminating drainage ditches that actively lower groundwater. "And it would be better to invest in raising soil moisture than, for example, in dam reservoirs," he says. 
PAP - Science in Poland, Ludwika Tomala
lt/ zan/ kap/
tr. RL